Prostitution or flesh trade is very common problem for any nation. On one hand, where people are compelled to enter this dark world due to their financial problems and others that are beyond their control, while on the other, many at their tender ages are forced to enter the red light zone by abduction, human trafficking and through other criminal activities. Listed below are 8 districts in this country that carries the ill-fated label of the largest red light areas across India:
1.
Sonagachi, Kolkata
Located in North Kolkata, Sonagachi carries the unfortunate tag of being the Asia's largest red light area. In the meandering lanes of the heritage part of the city stands hundreds of single room to mulch-storied brothels that shelters more than 11,000 sex workers. The place got global recognition particularly when "Born into Brothels: Calcutta's Red Light Kids", a documentary film about the life of the children of prostitutes here, grabbed the Academy Award for best documentary feature in 2005.
2.
 Kamathipura, Mumbai
Kamathipura, formerly known as "Lal Bazaar", is recognized as the India's second largest and one of the biggest red light areas in Asia. It is situated in the city of Mumbai, the financial hub of India and gets its name from the "Kamathis" (Workers) of Telengana. The roadside brothels, opened like shops, houses a shocking number of prostitutes who call out to the passing by males who crowd this financial capital city often coming from different part of the country to earn a living.
3.
Budhwar Peth, Pune
With an estimated population 5000 sex workers, Budhwar Peth is often plugged as the third largest red light district in India. Located in the city of Pune, this area is also known as a hub of electronic products. Owing to the frequent raids and the economic slowdown as a whole, the business here has gone down drastically, for good, in recent years.
4.
Meergunj, Allahabad
The birthplace of the political icon Jawaharlal Nehru also carries an unwanted and notorious reputation of being a red light district with a fair bit of grey shade. Widely condemned for illegal trafficking and forced prostitution of young girls, of local origin and those transported from the states of West Bengal, Bihar and neighbor countries Bangladesh and Nepal, is also not safe for visitors who have sometimes been reported as being victimized.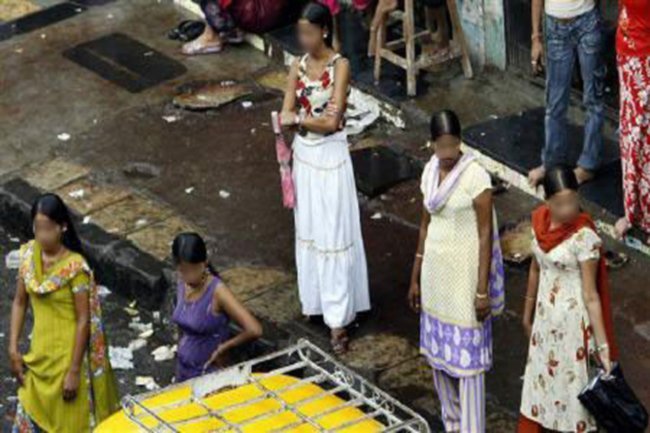 5.
G.B. Road, Delhi
Garstin Bastion Road or simply G.B. Road is officially known as the Swami Shradhanand Marg. It is recognized as the fifth largest in the country and the biggest red light area in Delhi, this place harbors hundreds of roadside multi storey buildings with ground floors opened as general stores and the upper floors used as defloration chambers. The upper floor brothels take full effect especially in the night time when the lower shops close down.
6.
Chaturbhuj Sthan, Muzaffarpur
It comes with more than a century old reputation of being a red light area. Now home to nearly 1000 sex workers, since ancient days, this old temple area had alongside brothels that were built to give ready access to the high class socialites for entertainment and concubinage.
7.
Itwari, Nagpur
Itwari or Ganga Jamuna is recognized for prostitution, is a well known hunting ground for various anti-socials who are mostly engaged in enriching the sex racket with "new items" by illegally trafficking teenage as well as young girls from different part of country and abroad.
8.
Shivdaspur, Varanasi
This red light village on the edge of Varanasi city is known for the cheap brothels that is run by the normal households in the village. As this business demands, this place is also teeming with anti-socials who are continuing their mischievous deeds, trafficking young girls and even boys and forcing them in the flesh trade, under the nose of administration.
Although, lack of education, awareness, unemployment, poverty etc. are equally responsible for providing the flourishing business of these red light areas, these flesh trades are also largely thriving on the criminal activities rampaging on the respective areas that equips the business with necessary components, in this case, the young girls and sometimes boys that enriches the trade with new attractions. With lack of administrative monitoring and even often, provision of legal covering by the law enforcers themselves, the anti-socials are wandering with their head held high and getting away with their wretched crimes.
Government is also adding to the misery by not providing adequate facilities of education and job opportunities to this below poverty line communities. Unless a holistic approach is taken, to stop benefiting from this ill-fated business and eradicate this issue from the root, it'll be continuing for years, as it has been for ages, even in this so called developing modern era.