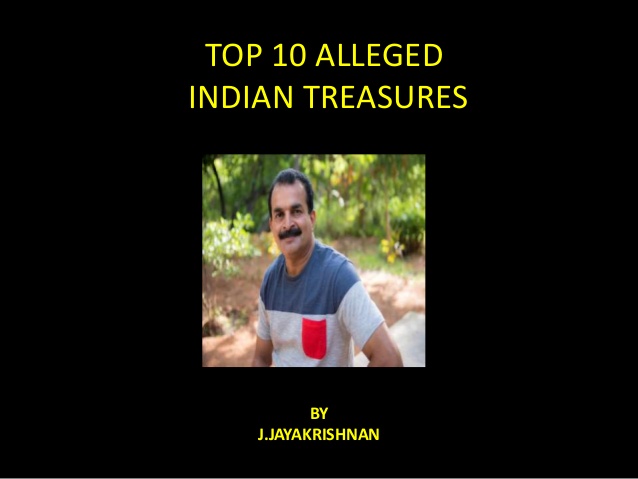 India was the richest country long before British rule and long after numerous conquests from outside invaders. Territories of most of the kings were larger than England, Spain, Portugal, France or Germany. Thenumber of invaders that invaded India are too numerous to count and all through this some departed with the loot while others stayed here to rule. Most of the treasures belonging to royal families were seized after India's Independence by Indian government. Here is a list of Top 10 Alleged Indian treasure that remain a legend, yet to be discovered and have become a part of the local folklore.
Sri Mookambika Temple (Kollur, Karnataka)
Sri Mookambika Temple nestled in the foothills of Western Ghats of Kollur in Karnataka is a busy local pilgrimage. The temple sees a huge surge in the devotees in the nine-day Navaratri festival. A bizarre note to be made here is that over the last few years temple's income hasn't exceed 17 crores; however, the shrine board has spent more than 35 crores for developmental projects over the last 10 years. Priests of the temple believe the symbol of serpent in the temple is a clear sign of great hidden treasure beneath the temple. The serpent is meant to protect the treasure from the outsiders. Even barring the treasure, value of temple jewels itself is estimated to be more than 100 crores.
---
Krishna River Treasure (Golconda, Andhra Pradesh)
Golconda was once known for its world renowned diamond mines. Most of the mines were located along the banks of River Krishna. The world famed Koh-i-noor and Hope Diamonds were mined from these mines. Golconda mines were last mined in the 14th century and India remained the only source of diamonds in the world up until the late 19th century. The exact location of these mines remains unknown. In December of 2012 a group of western treasure hunters along with a television crew set on journey to find diamonds in the bottom of Krishna River and finds the original Golconda mine, which they were even successful to some extent. It is still believed that diamonds from the Golconda mines still lay scattered in the bottom of Krishna River.
---
Charminar Tunnel (Hyderabad, Andhra Pradesh)
There is an underground tunnel that connects the Charminar to Golconda Fort that was constructed by Sultan Mohammed Quli Qutub Shah to serve as an escape passage in times of emergencies. The tunnel that still exists between these two historic structures is believed to have treasures at various places to be used in emergencies by the royal family. The tunnels are said to be 15 feet wide and 30 feet high. In 1936, a survey was conducted of the tunnels, a map prepared and a report was submitted to Nizam Mir Osman Ali with several proposals for further detailed survey, but it was not clear why no followup action was taken by the Nizam. It is still believed that there is treasure hidden in the chambers of the tunnel.
---
Nadir Shah's Treasure (Hindu Kush Range)
Nadir Shah invaded India in 1739 and attacked Delhi with an army of 50,000 men. The plunder and loot that Nadir Shah gained from the massacre of Delhi (20,000-30,000 innocents killed) was so massive that his treasure caravan was said to be 150 miles long on his way back to Iran. According to a legend it is believed that on his way back to Persia, he was murdered in his tent, but according to historical records he was actually murdered in1747. In any case, if the legend is to be believed, his assassin, Ahmad Shah succumbed to some illness and died a gruesome death, but locals believe before his death, he managed to conceal the bulk of Nadir Shah's treasure somewhere in labyrinth of tunnels of Hindu Kush Mountains (probably in Kandahar). Nadir Shah's loot included millions of gold coins, sacks of jewels, the sacred Peacock Throne (now in Iran) and the fabled Koh-i-noor diamond, which today can be found in the British Crown Jewels.
---
Sonbhandar Caves (Rajgir, Bihar)
Sonbhandar Caves are two rather strange cave chambersin Rajgir, Bihar that are hollowed out of a single massive rock. It is estimated to date back to at least 3rd – 4th century AD by the inscriptions in the western cave. The western chambers is believed to have been the guard room and the doorway is supposed to lead to King Bimbisara's Treasury. Inscriptions in the Sankhlipi script, etched into wall of the western cave and so far undeciphered, are believed to give the clue to open the doorway. The treasure, according to folklore, is still intact. The mark on the supposed doorway where the British tried to cannon ball (without success) their way through can still be seen.
---
---
Treasure of Mir Osman Ali (Hyderabad, Andhra Pradesh)
Mir Osman Ali was the last NIzam of Hyderabad. He ruled over an kingdom the size of England. In 2008, Forbes magazine listed the Nizam as the "fifth all-time wealthiest" person with a net worth of $210.8 billion, while TIME magazine called him the richest man in the world in 1937. When he inherited the throne in 1911, the kingdom's treasury was almost empty because of his father's extravagant lifestyle. In his 37 years of rule, he put the state's finances back on track and acquired fabulous personal wealth. His personal wealth was said to be stored in the underground chambers of King Kothi Palace (Hyderabad) where he spent most of his life. Among his treasure was the famed Nizam jewellery (173 magnificent pieces) studded with rubies, diamonds, pearls, sapphires and other precious stones beautifully embedded in gold and silver. When Hyderabad merged into the Indian union in 1948, Indian Government was only able to acquire a fraction of the 5000 Crore worth of jewellery. No one knows what happened to the rest of his treasure. There is no mention of his vast wealth in state records or his personal records. It is widely believed the remaining jewels of Nizam are still buried somewhere in the underground chambers of King Kothi Palace.
---
Mughal Treasure of Alwar (Alwar, Rajasthan)
Alwar Fort is about 150 km from Delhi in the Alwar District of Rajasthan. According to local folklore, Mughal Emperor Jehangir took refuge here when he was exiled and that he hid his treasure here while on the run. It is believed that not all of the treasure was salvaged and most of it still lies hidden in the fort. Even before the rise of Mughal Empire, Kingdom of Alwar was a prosperous one and its treasure among other things is believed to have consisted of a drinking cup cut out of a single emerald.
---
Treasure of Man Singh 1 (Jaipur, Rajasthan)
Man Singh I was commander of Akbar's army and a former ruler of Jaipur. He was one of the Navaratan of Akbar's royal court. According to a local legend, on his return from the Afghanconquest in 1580s, he never shared his loot with Akbar and hid this treasure in Jaigarh fort. Some believe the treasure was stored in the underground tanks of the fort courtyard. This theory is given credence by the fact that a search was ordered by Prime Minister Indira Gandhi during the emergency for the treasure. According to "official reports" the search was said to be futile. It is interesting to note that statements were raised later by opposition in Parliament later that after nearly six months of search, Delhi-Jaipur road was closed to general public and the treasure was transported to Prime Minister's residence in military trucks. It is hard to tell which one of the above is true. Hence the treasure either lies hidden in the fort or it was salvaged by the Indian Government.
There is also another entirely different legend of Man Singh's treasure. According to this legend after every conquest, Man Singh would first present the loot to Jodha Bai (Akbar's wife) before presenting it to Akbar. Jodha Bai used to skim a portion of riches and hide it in a temple in Fatehpur Sikri. Locals believe the temple over time was buried and the treasure still lies underneath the temple.
---
Wreck of the Grosvenor (South Africa)
To find this treasure, one might have to go a long way out of India. Grosvenor is considered to be the richest and the biggest British East Indian ship ever lost. The Grosvenor left Madras to England via Ceylon in March 1782 with precious cargo aboard. On August 4th, 1782, it wrecked on a reef about 700 miles northeast of Cape Town, South Africa. The cargo on the ship is said to have included 2,600,000 gold Pagoda coins (weight unknown), 1,400 gold ingots (weight unknown), nineteen chests of diamonds, emeralds, rubies and sapphires from India that were all lost to the sea along with the ship. The ship was claimed to have been found and only a tiny portion of the treasure salvaged, but the rest of the treasure is yet to be discovered. If the treasure is found in international waters by an Indian, he might have a strong case in declaring its ownership as it will either be taken by Indian government or the finder (maybe an Indian).
---
Padmanabhaswamy Temple Chamber B (Thiruvananthapuram, Kerala)
Sree Padmanabhaswamy Temple of Thiruvananthapuram in the state of Kerala shot to international fame when an underground vault (vault A) was opened under court orders in June of 2011. The officials were surprised at what they saw inside. There were all kinds of jewelry, crowns, statues, common household articles made out of gold and studded with all kinds of precious stones. The antique value of the total treasure trove was estimated to be $22 billion. Supreme Court later ordered that vault B will be opened only after proper documentation of articles of vault A and preservation of it and it would be opened with proper security. It has been more than 1.5 years since the first door was opened. According to the local legends and temple priests, the treasure in vault B is protected by giant serpents and that breaking its will bring massive disaster. Treasure in vault B is estimated by temple priests to be more than what was found in vault A.