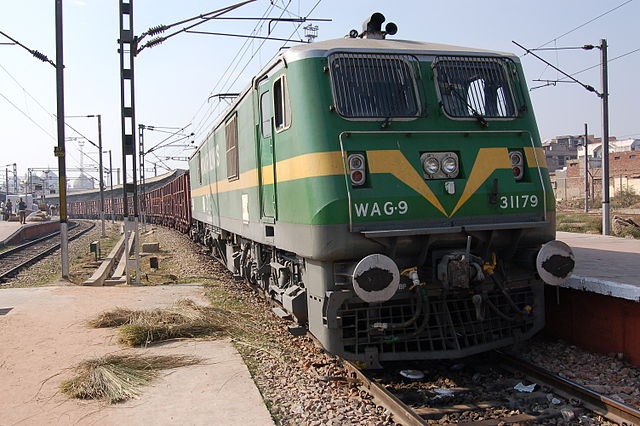 Here are 50 interesting facts on Indian Railways.
 1-5
1. Fastest train in India: New Delhi-Bhopal Shatabdi Express is the fastest train in India. The all air-conditioned superfast train clocks a maximum speed of 150km/h on the Faridabad-Agra section. It also has the highest commercial speed – 89.87 km/h- and covers the 704 km New Delhi – Bhopal stretch in 7 hours 50 minutes.
2. Slowest train in India: Metupalayam Ooty Nilgiri Passenger which runs at a speed of 10kmph, 15 times slower than fastest running train. Since this train runs in hilly region there are speed limits to comply. The one that comes close is Pratapnagar-Jambusar passenger, with a maximum speed of 12km/h and an average speed of 11km/h. It takes 4 hrs for a journey of 44 km.
3. Longest run by a train: Vivek Express from Dibrugarh to Kanyakumari travels a distance of 4273 km, making it the longest run in terms of total time and distance in Indian Railways.
4. Shortest run by a train: Scheduled services between Nagpur and Ajni stations situated just 3km from each other – primarily meant for crew to travel from Nagpur station to the workshop at Ajni.
5. Longest non-stop travel: Trivandrum – H. Nizamuddin Rajdhani Express travels the 528km stretch between Vadodara and Kota non-stop. In second place is the Mumbai Rajdhani Express that travels nonstop between New Delhi and Kota.
---
6-10
6. Longest station name: Venkatanarasimharajuvaripeta on the Arakkonam-Renigunta section near Chennai.
7. Shortest station name: Ib, near Jharsuguda in Odisha and Od, near Anand in Gujarat.
8. Trains with most stops: The record for maximum number of stops by an Express/Mail train is held by Howrah – Amritsar Express 115 halts, followed by Delhi – Howrah Janata Express 109 halts and Jammu Tawi – Sealdah Express 99 halts.
9. Least punctual train: Guwahati-Trivandrum Express is said to be the most unreliable long-distance train in the country. The charted journey time is 65 hours and 5 minutes, but the average delay on a trip is about 10-12 hours.
10. Two stations at same location: Srirampur and Belapur are two different stations in Ahmednagar district of Maharashtra which are both at the same location on the railway route but on opposite sides of the track.
---
11-15
11. Most powerful locomotive: Electric locomotive WAG-9 used for hauling heavy freight rakes is the most powerful locomotive in Indian Railways' fleet. The 6,350 horsepower beast is homed at Gomoh, Ajni, Lallaguda, Tughlakabad and Bhilai. Modified version of WAG-9 named WAP 7 is IR's workhouse for high speed passenger service. It is capable of hauling 24 coachtrains at speeds ranging between 140 and 160 km per hour. WAP-7 has similar horsepower as that of WAG-9 but comes with modified gear ratios for faster acceleration.
12. Last stations in North-South-East-West direction: Northernmost railway station is Baramulla in Jammu and Kashmir. Westernmost is Naliya near Bhuj in Gujarat. Southernmost railway station is Kanyakumari, while the last station on the east of India is Ledo on branch line from Tinsukia.
13. Junction with most number of routes originating from it: Mathura junction with 7 routes- Broad Gauge (BG) line to Agra Cantt, BG line to Bharatpur, BG line to Alwar, BG line to Delhi, Metre Gauge (MG) line to Achnera, MG line to Vrindavan and MG line to Hathras, Kasganj. Six route junction – Bhatinda. Five route junctions – Lucknow, Guntakal, Katni, Varanasi, Kanpur Central, Villupuram, Dabhoi, and Nagpur.
14. Most number of parallel tracks/ Three gauges at one station: Seven parallel tracks between Bandra Terminus and Andheri – 10km. Siliguri station on NFR holds the distinction of having three different gauges present.
15. Busiest station: Lucknow, with 64 trains per day.
---
16-20
16. Longest Platform: Indian Railways owns the longest railway platform in the world at Kharagpur (West Bengal) with a length of 2,733 ft (1072.5 m) in length.
17. Oldest Working Locomotive: Indian Railways still has the oldest preserved locomotive in working order, the Fairy Queen which was made way back in 1855. It is the oldest functioning steam engine in the world, which finds a place in the Guinness Book of World Records and got Heritage Award at the International Tourist Bureau, Berlin in March 2000.
18. First Railroad: The first railroad was constructed by two Indians (Jamsetjee Jeejeebhoy and Jaganath Shunkerseth) and not the British.
19. Labor Force: Indian Railways is the world's ninth largest commercial or utility employer, bynumber of employees, with over 1.4 million employees. It is also the India's largest employer.
20. Railway Network: Though it is commonly believed, India doesn't have the largest railway network in the World. India comes fourth with approx. 64,000 km of railroad after US, Russia, and China. If the tracks were to be laid out from one point to another around the equator, it would circle it one-and-a-half times.
---
21-25
21. Steam Locomotives: The manufacture of steam locomotives in the country was stopped in 1972.
22. Distance Covered: The total distance covered by the 14,300 trains daily on the Indian Railways daily equals three & half times the distance to moon.
23. Lavatory: Toilets on trains were first introduced in 1891 in 1st class and in 1907 in lower classes.
24. Air Cooling: Air Cooling was first introduced in 1st class coaches in 1874 in Great Indian Peninsular Railway
25. Longest Tunnel: The country's longest tunnel is Pir Panjal Railway Tunnel 11.215 km that was completed in December 2012 in Jammu and Kashmir. The tunnel is yet to become functional railway route. Karbude on Konkan Railways, which is 6.5 km in length previously held the title for the longest tunnel in India.
---
---
26-30
26. Underground Railway: First Underground Railway that was opened for public use was Calcutta Metro.
27. Computerized Reservations: First Reservation through the computer System commenced in New Delhi in the year 1986.
28. Electric Trains: First Electric coach ran on the 3rd February 1925 between Bombay VT and Kurla stations
29. Palace on Wheels: Indians were not allowed to board the Palace on Wheels luxury train for quite a while when it was launched on Republic Day of 1982.
30. Worst Rail Disaster: In the Bihar train disaster on June 6, 1981, a passenger train carrying 800 or more passengers between Mansi and Saharsa, derailed and plunged into the river Bagmati while it was crossing a bridge. After five days, more than 200 bodies were recovered, with hundreds more missing that were feared washed away by the river. Estimates of total deaths range from 500 to 800 or more. It was the worst Indian rail disaster.
---
31-35
31. Passenger Load: The Indian Railways (IR) carries over 25 million passengers daily which is perhaps more than the entire population of Australia, New Zealand and Tasmania put together. Annually Indian Railways ferries 7.2 billion passengers (nearly 6x India's current population).
32. Total Number of Trains: Indian Railways runs as many as 19,000 trains every day. Some 12,000 trains are for passengers and 7,000 for freight.
33. Number of Stations: The whole network has 7,083 stations
34. Age: Indian Railways has had an operation span of nearly 170 years.
35. Fares: Even after recent hike, fares on long distance journeys on the IR can be considered cheapest in the world. For instance, 1,500 km journey on Delhi-Kolkata route by Kalka Mail costs around Rs 250. A similar journey would cost 10x more on any budget train in Europe which boasts of strong rail transport.
---
36-40
36. Transit Trains: Mumbai's local trains are amongst the world's few to have 15 coaches. Shanghai's local trains come close with 12 coaches.
37. Chhatrapati Shivaji Terminus: CST in Mumbai caters to 33 million passengers annually and is the only terminus in the world to be listed as a monument of global heritage by UNESCO.
38. Oldest Operational Track: Ever since its origin in 1853, the rail service in India never turned back making it one of the oldest track in the world.
39. Revenue: Indian Railways collected Rs.581 Crore in fines+charges on ticketless travel in during the financial year 2011-12.
40. Rail Museum: The National Rail Museum in Delhi set up in 1977 is a one of the unique museums in Asia. Sprawled over an area of 11 acres the museum has collections like antique steam engines, locomotives, models, carriages, photographs among other things. There are live exhibits as well as working and non-working models. The added attraction is the toy train which runs across the museum.
---
41-45
41. Longest Bridge: Vembanad Rail Bridge 4.62 km in length in the state of Kerala connects connecting Edappally and Vallarpadam in Kochi. It is the longest rail bridge in India and it is dedicated solely for freight.
42. Sea Bridge: India's first sea bridge, the Pamban Bridge is a cantilever bridge on the Palk Strait. It connects Rameswaram on Pamban Island (Tamil Nadu) to mainland India.
43. Rail-cum-Road Bridge: Saraighat Bridge (1,492 m) is the first rail-cum-road bridge constructed over the Brahmaputra River in Guwahati, Assam. It was opened to passenger traffic in June 1963.
44. Dapoorie Viaduct (1854) on the Mumbai-Thane route is the first railway bridge in India.
45. Pre-Independence: About 42 Railway companies operated in the country before Independence.
---
45-50
46. Highest Bridge: The world's highest rail bridge being constructed over Chenab river in Jammu & Kashmir's Reasi district (Chenab Bridge) will be ready by December, 2015. Coming up at Kauri, it will be 359 meters (1,180 feet) above the riverbed (five times the height of Qutub Minar and 35 metres taller than Eiffel Tower). Also Anjikhad Railway Bridge to be completed in 2015 in Katra, Jammu-Kashmir is going to be the 4th highest in the world at 186 meters (610 feet). Stretching across a length of 424 metres, the bridge on the Panval River in Ratnagiri district, Maharashtra is currently the tallest bridge in India.
47. First Rail Tunnel: Parsik Tunnel (1865) is India's first rail tunnel.
48. World Record: Delhi station entered Guinness book of world records for having the world's largest route relay interlocking system.
49. Property: Indian Railways have approximately 10.65 lakh acre of land. About 90 per cent of this land is under Railway's operational and allied usages. The total vacant land, at present is about 1.13 lakh acre.
50. Dining Car: The Mumbai–Pune Deccan Queen has the oldest running dining car in Indian Railways.