A Temple, mandir, kovil, devalay or devasthanam is considered as the holiest place of worship by Hindus. Temples were constructed by Hindu kings in the Asian subcontinent from the present Pakistan to Cambodia, Thailand and Indonesia. In recent times though as Indians have immigrated all over the world, numerous Temples have been built for Hindus to come together in a foreign country to celebrate festivals of Hindu importance. Here is a list of top 10 unique and important Hindu temples outside India.
10. African Hindu Monastery (Accra, Ghana)
African Hindu Monastery was set up by Swami Ghananand Saraswati. This Hindu Temple is peculiar in the sense that none of the devotees of the temple are Indians. The indigenous African devotees have no links with India nor have they visited India, but they strictly follow religious rules and observe Hindu rituals in traditional Hindu way. All the devotees are converted Christians, but continue to keep their Christian names. However, they give their young ones Hindu names like Rama and Krishna. More than 2000 indigenous Africans come to the temple quite regularly.
---
9. Prambanan (Java, Indonesia)
Prambanan dedicated to Trimurti (Brahma, Vishnu and Shiva) is the largest Hindu temple in Indonesia and one of the largest Hindu temple in southeast Asia. It is an example of contemporary Hindu architecture with a 47 meter high central building inside a large complex of individual temples. The temple was built in 9th century by Rakai Pikatan of Mataram Kingdom. The temple complex was aggressively expanded by successive kings of the empire. The present name, Prambanan is probably a corrupted Javanese pronunciation of "Para Brahman" meaning "The Supreme Brahman." Originally, the compound consisted of 240 temples of which very few remain and are in a very bad state of health. The innermostcompound of the complex houses the Shiva temple, which is the tallest and the largest structure of the complex. After reconstruction of main temples in 1990s, Prambanan once again became an important religious center for Hindu rituals and ceremonies in Indonesia.
---
8. Angkor Wat (Angkor, Cambodia)
Angkor Wat holds the record for the largest Hindu temple complex in the world, although it's not currently being used as a Hindu temple. It was built in early 12th century by Suryavarman II of Khmer empire. Temple was dedicated by the king to Lord Vishnu. The temple has become a symbol of Cambodia, featuring on its national flag and is a prime tourist attraction. In the late 13th century, Angkor Wat moved gradually from being a Hindu temple to a Buddhist temple. It is a prime example of Khmer architecture with skilled use of sandstone as the main building material. The temple has a unique combination of temple mountain, a standard design of empire's state temples and concentric galleries resembling temples from Orissa and Cholan temples of Tamil Nadu. At the present day, Angkor Wat is primarily a tourist attraction and there have been major conservation efforts being undertaken by Cambodian government and other international organizations to preserve the deteriorating temple.
---
7. Wat Rong Khun (Chiang Rai, Thailand)
Among other temples in the list, this temple is unique and stands out. Also known as the white temple, it is a work of art in progression by Thai artist, Chalermchai Kositpipat. This unconventional artistic temple is rich with symbolism of Buddhist and Hindu traditions as well as other unorthodox sources. The temple has glass and mirrors embedded on outside to make it shine and sparkle in the sunlight. Construction of this artistic marvel began in 1998 and originally planned to be finished in 2008, currently has no set date of completion.
---
6. Sri Venkateswara Balaji Temple (Tividale, England)
Sri Venkateswara Balaji Temple opened in August 23, 2006. It was the first temple of Lord Venkateswara in Europe. It was designed to replicate the Tirupati Thirumala Temple in Tirupati, India. At the time of its opening, it was the largest Hindu temple in Europe. The temple complex was built on 12.5 acres of wasteland in an industrial area. The temple was built in stages in India and shipped to UK. The temple met a lot of opposition from the locals at the beginning of its construction. The main shrine houses 12ft statue of Lord Venkateswara, incarnation of Lord Vishnu.
---
---
5. Radha Madhav Dham (Texas, USA)
Radha Madhav Dham is the largest functioning Hindu Temple outside India covering an area of 3,300 square meters. It was established in 1990 by Swami Prakashanand Saraswati. The main prayer hall of the temple has pictorial representations of teachings of ancient Hindu scriptures captioned both in Sanskrit and English. Temple's architecture is a blend of north and south India modern style of architecture. The 90 foot dome is made of white and blue granite and gold. The temple complex hosts many religious events, festivals and Hindu weddings. Temple celebrates one of the biggest Janmashtami celebrations in North America.
---
4. Arulmigu Sri Rajakaliamman Glass Temple (Tebrau, Malaysia)
The temple was originally started as a small shelter in 1992 on the land presented by Sultan of Johor. The temple was later rebuilt and officially reopened in 1996. Inspired by a glass temple during his trip to Bangkok, Guru Bhagawan Sittar, the chairman and priest of Sri Rajakaliamman temple decided to renovate his temple and use intricate glass work to attract more devotees to the temple. Therefore transformation of the temple completed in 2009 and it became the country's only glass temple. Light from crystal chandeliers is reflected in every direction in a bright blaze that's quite blinding initially. The centerpiece in the Athma Lingam sanctuary is a lotus for Lord Shiva.
---
3. BAPS Shri Swaminarayan Mandir (Atlanta, USA)
Shri Swaminarayan Mandir in Atlanta is the largest temple built by BAPS organization outside India. The temple covers 3000 square meters and sits on 30 acres of land. Built at a staggering cost $19 million, more than 1300 craftsmen and 900 volunteers dedicated their time to putting together 34,450 pieces of this stone marvel together. Italian Carrara marble, Turkish limestone, Indian pink sandstone were carved by craftsmen in India and then shipped to USA. Primary deity of the temple is Bhagwan Swaminarayan and the temple serves members of the Swaminarayan branch of Hinduism, which originated in India more than 200 years ago.
---
2. Sri Subramaniar Swamy Devasthanam (Batu Caves, Malaysia)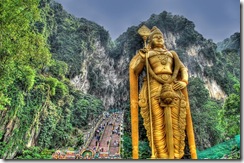 Batu Caves are a series of limestone caves in Gombak district, 13 km north of Kuala Lumpur. The caves have one of the most popular shrines of Lord Murugan outside India. In 1890, inspired by the vel shaped entrance of the caves, K. Thamboosamy Pillai, an Indian trader installed the Murugan statue and promoted the caves as a place of worship. At the entrance to the cave is the tallest statue of Murugan in the world standing at 42.7 meters. The statue is made of concrete with reinforced steel bars and a layer of gold paint coating over it. The Batu Cave Temple Complex is reached by a climb of steep flight of 272 steps. The temple complex is the focal point of yearly Hindu festival of Thaipusam in Malaysia. Thaipusam attracts a large number of pilgrims from Malaysia as well as from India, Australia and Singapore.
---
1. Pashupatinath Temple (Kathmandu, Nepal)
Pashupathinath Temple is one the most important temples of Lord Shiva in the world. It is one of the 275 Paadal Petra Sthalams. Pashupathinath means Lord of the Animals. It is the oldest Hindu temple in Kathmandu. According to the oldest ever chronicle in Nepal, it was constructed in 753 AD by Jayadeva 11 and it was reconstructed in 12th century and 17thcentury due to extensive damages caused by termites. The temple's sanctum houses 1-meter high linga with four faces. The temple has unique architecture, different from traditional Hindu temples of India. It has a Nepalese Pagoda style of architecture of two level cubic sloping roofs resting on wooden rafters. The roofs are made of cooper with gold covering and all four main doors are covered in silver sheets. Temple has a golden pinnacle (Gajur).