Top 10 Geographical Indicators of India
Geographic indicator is a certification given by government of a country to certain products, which correspond to a specific geographical location of origin or manufacture. The location may be a local area, town, state or a whole country. The certification acts as an indicator that specific product enjoys a reputation and qualities specific to the particular geographical location and is produced or manufactured by traditionally proclaimed methods ensuring that it is a genuine product.  Here is a compilation of top 10 geographical indicators of India
10. Hyderabadi Haleem
Hyderabadi Haleem became the first non-vegetarian Indian cuisine to be granted Geographical Indication status by Indian GIS registry office in Chennai in recognition to its cultural significance. It is a stew composed of meat, lentils, and pounded wheat that is cooked at low flame of firewood for up to 12 hours. Its preparation has become sort of like an art form. Though it is traditionally served as an appetizer, it is principally consumed in the Islamic month of a Ramadan during Iftar. It is a nutritious high-calorie cuisine containing slow-digesting and fast-burning ingredients that gives instant energy. Apart from local consumption, Hyderabadi haleem is also exported to over 50 other countries worldwide. Hyderabadi haleem chefs are paid high salaries, up to 1 lakh rupees a month with benefits.
---
 9. Aranmula Kannadi (Mirrors)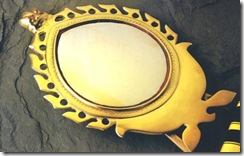 Aranmula kannadi is a very special handmade metal-alloy mirror made in in Aranmula, a village in the state of Kerala. Unlike the normal silvered glass mirrors, being a metal-alloy mirror, it is a front surface reflection mirror, which eliminates secondary reflections andaberrations typical of back surface mirrors. This mirror is protected with a GI patent. The exact mixture of alloy is not exactly known publicly, but it alleged to be a mixture of copper and tin. It is produced by a single extended family in Aranmula, the origins of which have been traced back to Aranmula Parthasarathy Temple. British museum in London has a 45 cm tall Aranmula kannadi in its collection. Valkannadi with a handle to hold it is the most traditional model of Aranmula kannadi.
---
Kashmiri Pashmina
Kashmiri pashmina got its GI cover in September of 2008 acceding to the longstanding demands of pashmina weavers of patenting it. Pashmina is the highest quality cashmere wool and many kinds of textiles products are made from it, the most famous of them being pashmina shawls. The wool comes from pashmina goat that is a special breed of goat indigenous to high altitudes of the Himalayas in Nepal, North India and Pakistan. This wool has a special luster due to its long fine fibers, which are as thin as 12 micros, comparing it to human hair which is 200 microns. Pashmina accessories range from scarfs and shawls to saris. Impressively soft and light, the Pashmina shawls offer incomparable warmth.
---
Blue Pottery of Jaipur
Blue pottery of Jaipur of Jaipur was granted its Geographic Indication patent in August of 2009. The Persian art of blue pottery came to Jaipur from Persia and Afghanistan during Mughal rule. Traditionally, it is made from quartz and not from clay. It is made out of Egyptian paste, is glazed and low-fired. Its biggest advantage lies in the fact that it is impervious, hygienic and aptly suitable for everyday use. Its unique turquoise colour is obtained by mixing crude copper oxide with sugar or salt and then filtered for use. The more darker ultramarine colour is achieved from cobalt oxide. Only specific pottery produced by artisans in Jaipur has the same unique age-old qualities.
---
 6. Thanjavur Paintings
Thanjavur Painting originated in 16th century in Tamil Nadu. These paintings have been given GI patent by Indian Patent Office. Traditional yet contemporary, these paintings are known for their vivid colors, miniature painting, surface richness and compact composition. In recent times, these paintings have become souvenirs of festive occasions, pieces to decorate walls and collectors' items for art lovers. The subjects of almost all painting are Hindu gods, goddesses, and saints that occupy the central section of the painting inside beautifully decorated arches or curtains. These paintings come in three finishes namely classic, antique and embossed. High quality gold foils are used to ensure longevity. Originally, only Krishna figures were painted, but now a variety of figures are depicted.
---
---
Bikaneri Bhujia
The desert town of Bikaner in Rajasthan is famous for its crispy bhujia, otherwise popularly known as Bikaneri bhujia. Unlike the usual bhujia, Bikaneri bhujia is not made from gram flour (besan), but from ground moth lentils, a crop which grows only in Bikaner and Jodhpur. This factor complimented with the desert air gives this bhujia its unique crispness and extraordinarily long shelf life. In September 2010, Bikaneri Bhujia was granted Geographical Indication protection giving Bikaner the sole proprietorship of its production. The bhujia industry in Bikaner employes close to 2.5 million people, mostly woman of neighboring villages. Today, the bhujia is synonymous with Bikaner, and this happy town is quite satisfied letting the dish appropriate its name.
---
 4. Darjeeling Tea
Darjeeling Tea became the first Indian product to receive a GI tag in 2004-05. Tea was first planted in Darjeeling in 1841 and its commercialization took place in 1850s. The incomparable aroma and taste of Darjeeling tea is considered as a result of locational climate, soil conditions, altitude and its meticulous processing. It is the most coveted tea in the world. The Tea Board of India administers the Darjeeling certification mark and logo protecting this tea designation from unfair use of its name in marketing tea worldwide. This tea is still manufactured in traditional and original methods and machinery is used only for processing post production. There are different types of Darjeeling Tea namely black tea, oolong tea, green tea, white tea and blended, flavored and scented teas.
---
 3. Kanchipuram Sari
Kanchipuram Sari is a traditional sari made by weavers from Kanchipuram and considered the highest in quality among saris. Kanchipuram Sari secured at GI tag in 2005 and it is also protected by security protocol, which involves a jail time for anyone who violates GI standards. This sari has a classical combination of zari or gold thread embroidery and silk weaving. The intricate gold and zari work increase the weight and price of the sari. It is one of costliest saris of India and the price tag depends on the intricacy of the work, color, pattern, and the materials used.
---
 2. Ratnagiri Alphonso
AlphonsoMango (Hapoos) often referred to as the king of mangoes principally due to its taste and colour. It is among the most expensive variety of mangoes and is grownmainly in Ratnagiri and Sindhudurg in Maharashtra and some other districts of Gujarat. The mangoes grown in the district of Ratnagiri and Sindhudurg carry the GI tag and are marketed as the very special Ratnagiri Alphonso or Haapoos. In fact, farmers from these two districts have been awarded global Good Agricultural Practices (GAP) certificate that enables them to export their mangoes. In the past two decades due to global demand, the production of mangoes has more than doubled in these two districts. The climate in the narrow strip between Arabian Sea and the Sahyadri hills measuring close to 400 km provide the ideal conditions to grow Hapoos mangoes and is said to greatly influence the distinct flavor and aroma of the mangoes of this region. Apparently Alphonso mangoes were applied for a GI tag and are yet to be granted one.
---
Tirupati Laddu
Tirupati Laddu or otherwise known as Srivari laddu is the world famous prasadam offered at Tirumala Tirupati Devasthanam. Tirupati Laddu is copyrighted and received its Geographical Indicator patent in September of 2009. The temple now solely owns the rights to prepare and distribute the sweetmeat deterring others from naming and marketing it under the same name. This laddu came into being in the 1920s, but some temple priests argue that it has existed since the 17th century. Tirupati laddu is synonymous with Tirupati and it is the customary duty of the devotees to return home with laddu, distributing it among family and friends. When Tirupati Laddu received its GI tag from Indian Patent Office, it led to a plenty of controversy and a couple of Public Interest Litigations were filed in Supreme Court and some High Courts seeking withdrawal of GI tag to the Laddu. It was argued that the GI patent of the laddu paved way for enhanced commercialization of faith.