Milkha Singh was one of the first Indian sportsperson to bring India to the world spotlight. Here are 30 InterestingFacts About Milkha Singh.
1-10
1. As of 2013, Milkha Singh is the only Indian male athlete to win an individual athletics Gold in Commonwealth Games.
2. He lost his parents and relatives in the riots that followed the Indo-Pak partition. A 12-year-old Milkha escaped for his life and came to India.
3. He used to walk barefoot 10 km from his village to a school in Kot Addu Tehsil (Pakistan).
4. He wanted to join Indian army, but was rejected thrice.
5. He finally got in the fourth time after he enrolled in the engineering department.
6. He joined the EME Centre in Secunderabad in 1951. It was here that his talent as an athlete was discovered.
7. Singh trained hard during his "fatigue time" (time when soldiers do odd jobs) often racing against the meter-gauge trains.
8. His first competitive event was a cross-country race where he finished sixth among 500 runners.
9. In 1958, he won gold medals in both the 200m and 400m events at the 1958 Asian Games, clocking 21.6 seconds, and 47 seconds respectively.
10. In 1958, he won a gold medal in the 400m competition at the 1958 Cardiff Commonwealth Games, clocking a time of 46.16 seconds and became the first gold medalist at the Commonwealth Games from independent India.
11-20
11. At the 1960 Olympics in Rome, he finished second in all of his 400m races prior to the final.
12. He lost the Bronze Medal in the 400 m event at 1960 Rome Olympics Games by just 0.1 seconds.
13. Milkha Singh defeated the Fastest Pakistani runner Abdul Khaliq, who had won a 100 m Gold Medal at Tokyo Asian Games 1958 in the year 1962and therefore Pakistani President Ayub Khan named him 'The Flying Sikh'.
14. Milka Singh sold his Biography to Mehra (Director and producer of "Bhaag Milkha Bhaag") for just Re. 1, but inserted a clause stating that a share of the profits would be given to a charitable trust set up in his name.
15. Singh claims that he has not seen a single movie since 1968. Yet when he saw Bhaag Milkha Bhaag. He was moved to tears and told actor Farhan Akhtar, who plays him in the biopic, "You are a duplicate copy of Milkha Singh."
16. Milkha Singh, refused to accept the Arjuna Award for lifetime contribution, saying: "I have been clubbed with sports persons who are nowhere near the level that I had achieved".
17. The claim that he won 77 of 80 races is false. This would mean that he only lost three races in his entire career. In fact, he lost four races at the 1960 Olympics alone. He finished second in all three preliminary races and finished fourth in the final race. Rome Olympics aside, he also took multiple losses later in his career.
18. The claim that he is the only Indian athlete to break an Olympic record is also not true. Milkha Singh never held the world record in the 400 meters. Before the Rome Olympics, the record was 45.2, set by Lou Jones. At the Rome Olympics, it was lowered to 44.9 by Otis Davis and Carl Kaufman. Since Singh's personal best was a 45.6, so it is not possible that he ever held the world record.
19. He also never held the Olympic record in the 400 meters. Otis Davis set the Olympic record during his semi-final race at the Rome Olympics. His time was 45.5. The top three finishers ran under that time in the final, but Singh did not.
20. That said the other runners in Rome really weren't much faster than him. In fact, at the 1958 Commonwealth Games in which Milkha won gold in the 400 meters, he defeated Malcolm Spence of South Africa, the bronze medalist at Rome.
21-30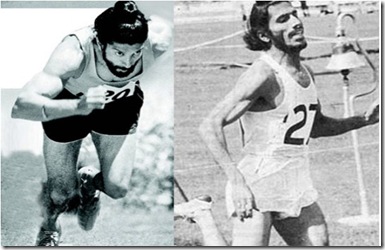 21. Once, he was caught for travelling on a train without a ticket. He was sent to Tihar Jail and was only released after his sister sold some jewellery to get him out.
22. Paan Singh Tomar, on whose life Tigmanshu Dhulia made a film, was Singh's junior. The Sikh apparently once defeated Tomar in a long-distance race.
23. Post retirement, Milkha Singh was appointed the Director of Sports in Punjab.
24. 82-Year-old Milkha Singh told to PTI – "My last desire before I leave this world is that I want an Indian boy or a girl wins an Olympic gold medal for the country and for my sake. I failed to win it in Rome Olympics in 1960. After 2-3 years, I may be no more. I want to see an Indian win an Olympic gold in athletics. Since India gained Independence, only five reached the finals in athletics event and all failed to win a medal."
25. Milkha's son, Jeev Milkha Singh is the highest ranked Indian golfer in the world.
26. In 1999, he adopted the seven-year old son of Havildar Bikram Singh, who died in the Battle of Tiger Hill during Kargil War.
27. In the 1960, olypmic 400 m final, Singh ran at speed averaging 32 km/hr. For comparison treadmills only support a maximum speed of 22km/hr.
28. He used to spit out blood, urinate blood, he used to go unconscious after his race and they would have to give him oxygen and he was on the deathbed for more than a couple of times.
29. After Milkha Singh's success in 1958 Asian Games in Tokyo, his designation in Army got changed from a Sepoy to Junior Commissioned Officer.
30. Milkha Singh recently penned his autobiography entitled, The Race of My Life with his daughter Sonia Sanwalka that was published by Rupa & Co. in August 2011.